Archives Week is celebrated annually during the first full week of February.
Saskatchewan's first Archives Week was celebrated in 2006.
Events featured during past Archives Weeks have included phone-ins shows on Radio; celebrity reading events, open houses and evenings of films in archives across Saskatchewan or of archival value to the province, a screening of the 1973 Saskatchewan-made film Paperback Hero was an example.

The "Archives Pavilion" at the Saskatoon Heritage Festival has been a regular feature in Saskatoon an Regina hold annual events, but other communities including Craik, Cut Knife, Humboldt, LaRonge, Lloydminster, Melfort, North Battleford, Prince Albert, Regina, St. Isidore de Bellevue, Shaunavon, Swift Current, Wilcox and many more across the province all hold events to "Celebrate Archives".

Archives Week will continue to be an annual event, celebrated during the first full week of February starting on the Sunday.
February 2-8, 2020
February 7-13, 2021
February 6-12, 2022
---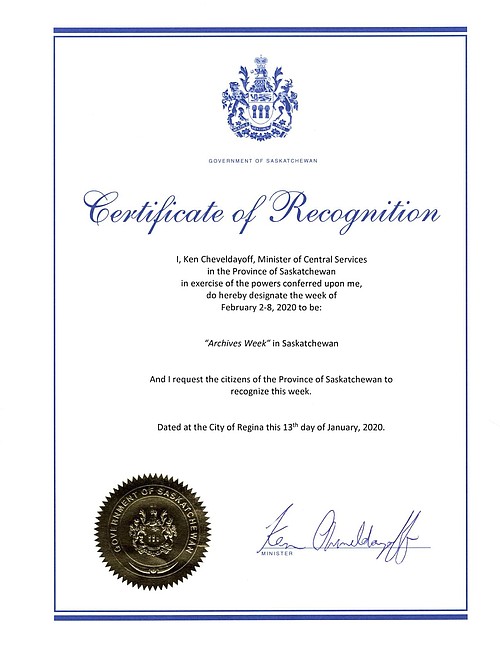 2020 Events
SCAA members are urged to celebrate the 15th annual Archives Week. The SCAA and communities across Saskatchewan will be celebrating Archives Week in the province on February 2-8, 2020. Events will once again bring Saskatchewan's archives into the provincial spotlight. These events by SCAA members may include Celebrity Reader nights, historic film nights, open houses and various types of individual and inter-institutional exhibits that will focus on the abundant sources of Saskatchewan's history and heritage in archives and Celebrate Archives!.

This year, along with our postcards and bookmarks the SCAA has again put together an "Archives Week Action Guide" with tips on planning events, undertaking local outreach activities that engage the local media, and encouraging individual archives and archivists to make the most of this time of celebration — their way.
Events are added often, find an event close to you on our Google map
Craik
Craik Oral History Archives, are pleased to be a part of the 15th anniversary of SCAA archives week, February 2-8, 2020. We are planning another Open House with our theme of "Education" back during the years of one-room school houses and experiences involved during that time. Some activities will include quizzes & interviews conducted by the students of their grandparents. Prizes are awarded to anyone who participates.
The Archives of Humboldt & District Museum & Gallery will be hosting an open house event on Thursday, February 6 from 1:30-4:30 of Archives Week. This will include an exhibit that will be on display for the duration of Saskatchewan Archives Week. This exhibit will have a theme focusing on "Fun at the Lake" with photos and documents of lakes/beaches and their related recreational facilities in the Humboldt area. Copies of the photos will be available for the public to contribute the identity of people, events and/or places in Humboldt and area. A slideshow of archival photos will be displayed and the celebratory cake will be shared with all visitors to the Open House.
Lloydminster Regional Archives will be setting up a special exhibit using reproductions of photos and documents from their collections. This exhibit will focus on the Barr Colonists established the Lloydminster community. As many of the colonists engaged in farming in nearby communities to the east around Marshall, Lashburn, Waseca and Maidstone, they plan on hosting an event and display in two communities (yet to be finalized). The displays will feature aerial photos of towns.
The Melfort & District Museum will hold a "Coffee & Conversation - The Story of Railroads in Melfort" on Wednesday, February 5, from 2 - 4 pm at the Museum.
Coffee & Conversation is a museum outreach event that brings attention to their archival role, that will encourage people to come to the museum and contribute to the museum's archives with stories of their featured pioneers. With the recent acquisition of 1912 Caboose to the museum they hope to increase their archives on the subject.
The City of North Battleford Historic Archives, for their 12th annual presentation for Archives Week will host a display of a collection of photographs and textual records titled "Decade of Growth – 1920's in North Battleford". This display include approximately 40 interactive display boards featuring subjects such as Business, Construction, Transportation, Sports, Lifestyle/Health, Entertainment and Minorities.
They will be setting up the display and an information booth at the Battlefords and District Co-operatives Territorial Place Mall in North Battleford on Thursday, February 6, 2020 from noon to 5:00 p.m. and then on Saturday, February 8, 2020 from noon to 5:00 pm.
This will be their 12th Archives Week presentation and it gives them an opportunity to thank all who have already contributed and an opportunity to invite citizens of North Battleford to donate material to the Archives. Most importantly, their presentation informs the public of the archives and their role in preserving historical documents and photographs.
---
Our members in Regina are presenting:
"Saskatchewan on Screen: Archival Film and Video, and its Preservation"
Tuesday, February 4, 6:30 pm – 8:00 pm
At the Regina Public Library Film Theatre, Central Branch, 2311 - 12th Ave.
Featuring clips from historic film and video collections from the University of Regina Archives and the Provincial Archives of Saskatchewan
Including:
"The Englishman's Boy" from Minds Eye Entertainment Inc. and the largest media donation in the history of the province!
"Chasing the Cure" from Donna Caruso
"A World Away Stories from the Regina 5" from Mark Wihak
And historic footage on Ukrainian immigration, the University of Regina campus, and Tuberculosis
To kick off Archives Week the SCAA will be participating with some of our members in the Heritage Festival of Saskatoon on Sunday February 2
In Saskatoon, a group of archives that include the the City of Saskatoon Archives, the University of Saskatchewan Archives and Special Collections, the Saskatoon Public Library - Local History, the Western Development Museum - George Shepard Research Library, the Saskatchewan Indigenous Cultural Centre with material from the Provincial Archives of Saskatchewan. They will all be presenting an Archives Week Variety Show on Thursday February 6,doors open at 6:30pm show starts at 7pm sharp until 9pm. The event will be held at Saskatoon's Roxy Theater, 320 20th Street West.
Films and readings will feature the history of Saskatoon and Saskatchewan held in archives across the province.
Come discover Saskatchewan's fascinating past - both playful and profound
Shaunavon
Grand Coteau Heritage & Cultural Centre will be celebrating Archives Week 2020 by presenting a slide show of photographs from their archive on the topic of Pioneer Days. It will take place at 10:00 am on Friday February 7 in the Grand Coteau Centre Gallery. The Grade 3/4 class from Christ the King School will be joining us to view the slide show of pioneer era photos and learn from group discussions about the challenges of pioneer life.
In celebrating Archives Week 2020 - Célébrons la Semaine des archives 2020, Archives de Bellevue will have displays of archival photos, documents and resource material at Centre culturel Le Rendez-vous , Bellevue for the week February 3-7, 2020 from 9am to 5pm.
On Monday February 3 at 10am, they will hold a Presentation and Coffee Event/ Présentation et caféat the Centre culturel Le Rendez-vous, Bellevue.
---
Wolseley
The Wolseley Historical Foundation Archive will hold a grand opening at their new location at 105A Sherbrooke St. during Archives Week, with Friday Feb. 7th as an Open House day with refreshments from 11:00am to 7:00pm.
Stan Marlin (left) with Stephen Scriver, of the Town of Wolseley Historical Archives, holding donated pennants.
Town Councillor, Ken Drever; Wolseley Mayor,Gerry Hill; Archives Volunteer, Stephen Scriver; M.L.A. Steven Bonk and Town Councillor Ron Lyke. Seen cutting ribbon for new Town of Wolseley Historical Archives
One thing we have learned is that the memories of Saskatchewan's many achievements are well documented by its archival record. Historical texts, photographs, films, audio recordings and other archival material have been key resources in the telling of our story. Books such as Saskatchewan: A New History and the Encyclopedia of Saskatchewan, as well as numerous documentary films, newspaper articles and television advertisements could not have been produced without this province's archival institutions.
But few of the people reading those books or watching those documentaries ever stop to consider the historical records that went into making them, or the work that is done to ensure that those records are acquired, preserved and made available. Saskatchewan has over 50 established archival institutions. Saskatchewan's archivists have preserved millions of photographic images, gigabytes of electronic records and thousands of hours of audio recordings and moving images. They have also been at the forefront of technology-enhanced access to those records. Saskatchewan leads the country in producing the greatest number of "virtual exhibits," many of which have K-12 educational components. These provide instant access to key photographs and valuable documents.
Saskatchewan archivists argued for and helped to develop Archives Canada - a national database of archival information. Provincially, we have developed the Saskatchewan Archival Information Network (SAIN), an on-line database of textual records as well as being the first province to initiate an on-line provincial photograph database.
In honour of our province's heritage and the work that has gone into ensuring its preservation, and to promote the role of archives in society, we celebrate "Archives Week" in Saskatchewan, on the first full week of February, this helps kick off Heritage month and coincides with the birthday of Edmund H. Oliver, who was the first professor of history at the University of Saskatchewan, and arguably the father of archives in this province (see biography).
Archives Week fosters our identity and pride in our past with displays and special events. It elevates the role of our province's archival institutions as keepers of authentic evidence of our past, keeping archives on our map!
Archives Week: Edmund Oliver
Edmund Oliver's Role in Establishing Archives in Saskatchewan
Although the first mention made of archives was by the territorial government in 1897, no comprehensive collection of records was then pursued. John Hawkes, first legislative librarian, began collecting material in 1907 but did so rather haphazardly, without a discernable sense of selection or appraisal (he referred to collecting "a whole drayload of matter.") The concept of archives was thought about most seriously following the hiring of Edmund Oliver as the University's first professor of history in 1909. Before he arrived Oliver wrote to University president Walter Murray advising him of entreaties he had already made in terms of acquisitions, saying "I have found that students must do laboratory work in history as well as in physics and we must secure the equipment necessary as soon as practicable." Within two years of his arrival Oliver had met and discussed the opportunity of establishing primary research resources with Hawkes, Premier Scott, and Arthur Doughty, the Dominion Archivist; in these initiatives he had the active support of Walter Murray. While Oliver was traveling throughout the province collecting materials from families, his correspondence to Murray indicated his appreciation of the need for appraisal within a collection, and he also foreshadowed our current understanding of archives as vehicles not only of heritage but of accountability and critical analysis. He wrote Murray: "As I understand my work...it should produce not trained historians, but capable and intelligent citizens. As soon as we secure adequate equipment [his 'laboratory for history'], I have hopes that our students may be able to contribute something to the intelligent discussion of public questions. In part this will be a new field even for myself but I am convinced that in this direction lies a great opportunity."

Oliver's conversations with Murray resulted in a letter from Murray to Scott in 1911, suggesting "a commission to go into the question of the preservation of historical documents, or rather for the collection of provincial archives," further suggesting the commission be "a purely advisory body" consisting of the Premier and another member of government, two members of the legislature, a professor of history from the University, the President of the University, and the provincial librarian - altogether remarkably similar to the eventual provincial archives Board established three decades later. Also in that letter, it is clear that Murray and Oliver envisioned an archives collection of both government and private papers. Moreover, both Oliver and Murray, recognizing the value such a collection would have for their students, were concerned not only with future interest in such documents, but in their immediate access and use.

Professor A.S. Morton, often mentioned in regard to the development of the provincial archives, was hired in 1914 - instantly becoming the sole member of the history department, as Oliver (and Frank Underhill) had both joined up for war service. There would have been no reason for Morton, new to the country, the province and the University, not simply to have accepted the philosophy of proactive acquisition as part of his, and the history department's, mandate. This doesn't diminish Morton's role in vigorously pursuing the establishment of the Historic Records Office and, essentially, the provincial archives. Nevertheless, there is good evidence that Oliver truly initiated, and effectively began, a coherent provincial archival collection. Oliver appears to have had and understanding of the role of acquisition, appraisal, access, and accountability in archival work, and he understood that archives serve to document our past as well as inform our citizens. His birthday, 8 February (1882), is therefore a good date to start "Archives Week" in Saskatchewan.